THE CUPRA D28 Formentor e-HYBRID
Taking hybrid performance to the sea
Our collaboration with De Antonio Yachts is being extended with the unveiling of the D28 Formentor e-HYBRID, our first electric hybrid yacht, reinforcing our commitment to sustainability and performance.
The initial collaboration in 2020 between CUPRA and the Barcelona-based, high-performance designer yacht firm delivered a 400PS showboat capable of reaching a top speed of 40 knots. The boat's exterior design stood out with straight lines, dynamic character, and unconventional colours. The exterior design had a distinctive Petrol Blue hull, several accents in black and carbon fibre along with a number of distinguishing elements.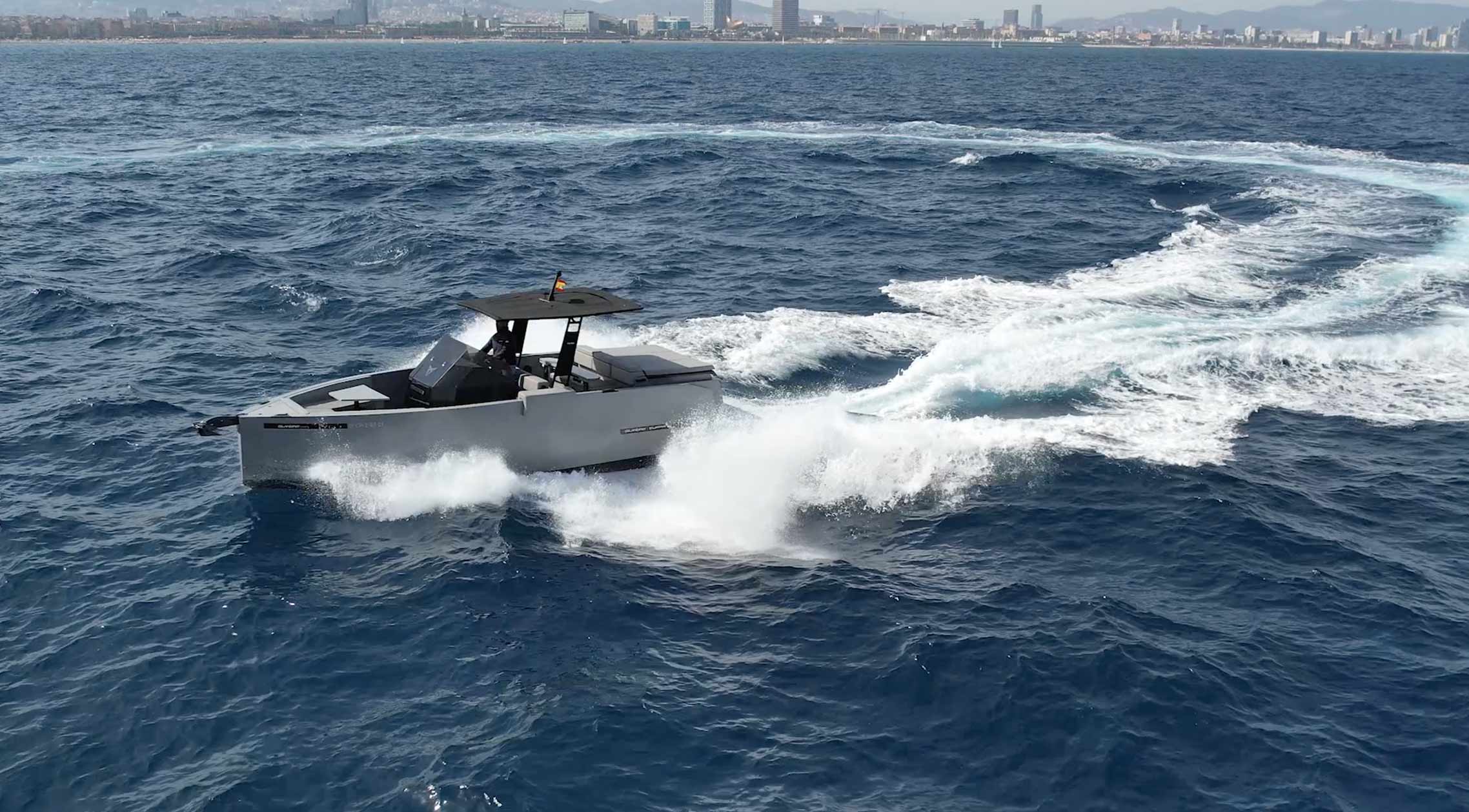 "We love bringing our performance to other territories. De Antonio is the perfect partner for being the unconventional challenger in a completely different environment on the sea. Now, we are taking that extra step with a hybrid version of the D28 Formentor which will be officially presented to the public at the beginning of 2023," said Antonino Labate, Global Director of Strategy, Business Development & Operations at CUPRA."
We worked together on the design of the De Antonio Yachts D28 Formentor, a high-performance yacht inspired by the first model uniquely designed and developed for the brand, the CUPRA Formentor. And now the collaboration adds electrification to the mix.
In addition to the 400PS engine, two retractable 15kW electric motors are integrated into the powertrain, to create a hybrid system, allowing the yacht to ride either in combustion mode or fully electric mode. While riding in 100% electric mode, the D28 Formentor can navigate with zero-emissions in places like restricted harbours and lakes, meaning zero water pollution and very low acoustic emissions.
The D28 Formentor electric hybrid yacht also benefits from a brand-new paint option: Graphene Grey – the same shade from the original CUPRA palette of colours - combined with a synthetic teak deck and grey upholstery.
Both CUPRA and De Antonio Yachts are challengers in their respective industries. With the development of the hybrid yacht, we reinforce our commitment to innovation and progress towards more environmentally friendly vehicles, on land and at sea.
We aim to continue creating a universe of experiences around the car that perfectly represents the CUPRA lifestyle.